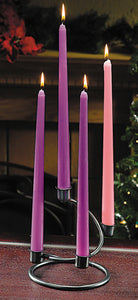 Catholicshoppingplace.com
Staircase Advent Wreath
Regular price
$25.00
$0.00
Advent - "the coming" - refers to the four-week season of preparation for the coming of Jesus on Christmas Day and the anticipation of His coming again. Advent begins the Sunday nearest November 30 and continues until December 24. Advent is a time to pray, a time to wait, and a time to hope.
The Advent wreath is the traditional centerpiece of the Christmas season. Many observe this holy season by lighting candles each of the four Sundays in Advent. Three of the candles are purple (or blue), reminding us to pray and serve others lovingly to help prepare the way for Jesus. The candle for the third Sunday of Advent is rose-colored. This color symbolizes our joy as the birth of Jesus draws near.
Our Advent candleholder is the perfect centerpiece for any home. Advent candles set sold separately (we do not sell them).
Material: Metal
Size: 6" H
---
Share this Product
Modern and sleek
I have a small house and was looking for an Advent wreath to fit our home. I found this one and liked the unusual configuration for the candles and the sleek, modern look. I've not been disappointed. The only problem I had was that the description said the candles were sold separately, but I couldn't find them anywhere on the website. I had to find them elsewhere and hope they would fit. I'm looking forward to the start of Advent and using our new wreath.
---
More from this collection