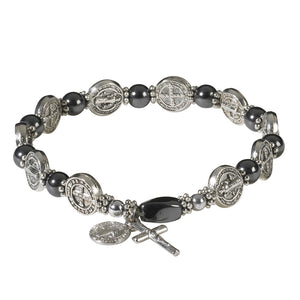 Catholicshoppingplace.com
St. Benedict Stretch Hematite Rosary Bracelet
Regular price
$15.99
Sale price
$20.00
The Saint Benedict Medal is a Christian sacramental medal containing symbols and text related to the life of Saint Benedict of Nursia. The medal is one of the oldest and most honored medals used by Catholics and due to the belief in its power against evil is also known as the "devil-chasing medal". As early as the 11th century, it may have initially had the form of Saint Benedict's cross, and was used by Pope Leo IX. In widespread use after its formal approval by Pope Benedict XIV in the 18th century, the medal is used by Roman Catholics to ward off spiritual and physical dangers, especially those related to evil, poison, and temptation.
This popular bracelet comes with 10 St. Benedict medals strung on a durable stretch cord. Each bracelet also includes hematite spacer beads, a st. Benedict Medal and crucifix dangle.
Delivery time: 3-7 business days 
Material: Hematite/Zinc Alloy
-Each bracelet comes in an organza bag
Size: 7 1/2" 
---
Share this Product
not buy one get one free
I ordered this item I was understanding that this was buy one get one free but it's beautiful
Rosary bracelet
I am beyond happy with this ! Wish I knew about you sooner
St Benedict Stretch Rosary Bracelet
---
More from this collection