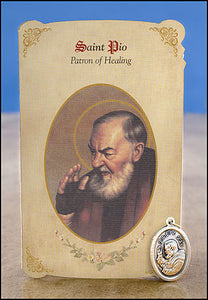 Catholicshoppingplace.com
Pio General Healing Medal Set
Regular price
$10.99
$0.00
"Ask, and it will be given to you; seek, and you will find; knock, and the door will be opened to you. For everyone who asks, receives, and the one who seeks, finds, and to the one who knocks, the door will be opened." Matthew 7:7-8
Prayer is an essential tool for healing and is an excellent source of comfort, courage and strength for those who are suffering. During times of illness, disease or a life challenge, nothing is more important than to offer prayer and to join with others in assurance of these prayers.
In addition to prayer, the Saints protect us against harm, help strengthen our faith and offer spiritual guidance and healing. They are our models of prayer and their intercession helps present powerful prayers of healing to God on our behalf.
Our Patron Saints of Healing line offers hope and comfort to those who seek healing through the intercession of the Saints. Each holy card and medal set includes a high-quality prayer card that contains novena prayers specific to the affliction, a short biography of the patron saint and an oxidized silver patron saint medal.
Holy Card: Full-Color Cardstock 2 1⁄2" W x 4" H (closed)
Saint Medal: Oxidized Silver 1" H
Includes a full-color holy card with two healing prayers, a saint biography and an oxidized silver patron saint medal.
Francesco Forgione was born on May 25, 1887 at Pietrelcina, Italy. He was a devout child and became a Capuchin novice at the age of 15. He decided to join the order in 1902 and was ordained to the priesthood in 1910. From then on, he became known as Padre Pio. On September 20, 1918, Padre Pio was kneeling at a crucifix when he received the visible marks of the crucifixion. The blood from the stigmata had an odor similar to that of perfume or flowers, and Padre Pio received the gifts of bilocation, levitation, and healing by touch. After WWII, Padre Pio himself became a point of pilgrimage. He would hear confessions by the hour, reportedly able to read the consciences of those who held back.
In 1956, Padre Pio founded the House for the Relief of Suffering, a hospital that serves 60,000 patients a year.
He died on September 23, 1968 and was canonized in 2002.
Saint Pio is recognized today as the patron of those in need of healing. His feast day is September 23rd.
Saint Pio, Pray for Us. -- Paper/Oxidized Metal -- Card: (closed) 2 1/2" W x 4" H; (open) 5" W x 4" H; Medal: 1" H
---
Share this Product
Pio General Healing Medal Set
Beautiful!
I love how it all together. It makes me feel loved and protected. I gave one to my son also.
Loved the medal
We sent the medal to a Benedictine monastery where a priest has agreed to bless the medal and the door hangers. We are waiting for them to be returned.
Pio General Healing Medal Set
---
More from this collection