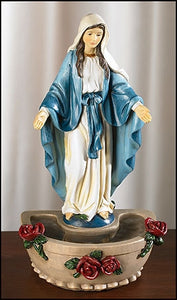 Catholicshoppingplace.com
Our Lady of Grace Standing Holy Water Font
Regular price
$30.99
Sale price
$55.00
Holy water is the primary way Catholics encounter water as a sacramental. It is blessed on the Feast of the Epiphany (January 6) and is used throughout the year. Having a font in your home is a great way to store holy water for blessing yourself as you leave or enter your home or before going to bed.
This holy water font is crafted of durable resin and can hang on a wall or stand on its own. Includes hole in back for hanging.
Material: Resin
Size: 7-1/2" H
---
Share this Product
Our Lady of Grace Standing Holy Water Font
Beautiful!
We like this font so much we purchased 2 more! Good workmanship and a beautiful piece.
Our Lady of Grace Holy water Font
I love it. So beautiful and very blessing.
---
More from this collection