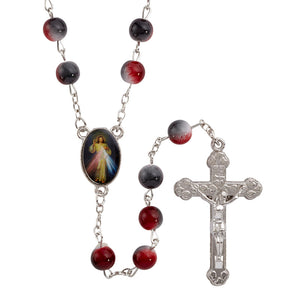 Catholicshoppingplace.com
Divine Mercy Rosary (SOLD OUT)
Regular price
$17.99
$0.00
Divine Mercy Rosary
The Divine Mercy image is a depiction of Jesus based on the devotion initiated by Saint Faustina Kowalska. "I promise that the soul that will venerate this image will not perish," Jesus told Faustina, according to her diary, which has been studied and authenticated by the Church over several decades. "I also promise victory over enemies already here on earth, especially at the hour of my death. I myself will defend it as My own glory." (Diary of Faustina, 48)
Jesus is shown in most versions as raising his right hand in blessing, and pointing with his left hand on his chest from which flow forth two rays: one red and one white (translucent). The depictions often contains the message "Jesus, I trust in You!" (Polish: Jezu ufam Tobie). The rays streaming out have symbolic meaning: red for the blood of Jesus (which is the Life of Souls), and pale for the water (which justify souls) (from Diary - 299). The whole image is symbolic of charity, forgiveness and love of God, referred to as the "Fountain of Mercy". According to the diary of St. Faustina, the image is based on her 1931 vision of Jesus.
This rosary includes round beads, a full-color epoxy devotional centerpiece and an ornate crucifix.
Material: Acrylic/Epoxy
Size: 8 mm Bead, 22" L, 1-3/4" Crucifix
Estimated delivery time between 3-7 business days. 
---
Share this Product
I am so happy that I placed my order. I love it.
---
More from this collection