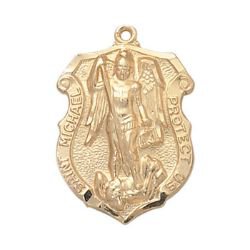 Catholicshoppingplace.com
24kt Gold Plate Over Sterling St. Michael Medal
Regular price
$69.95
Sale price
$98.50
Our Creed® collection of 24kt gold plate over sterling medals are both elegant and traditional, and designed for anyone.
St. Michael is one of the principal angels of God and the leader of His heavenly army. He is mentioned four times in scripture and, along with Gabriel and Raphael, is one of three archangels venerated liturgically in the Church. His name (Hebrew for "who is like God?") comes from his and the good angels' war cry in the heavenly battle against Satan and his demons mentioned the book of Revelation.
Christian tradition assigns to St. Michael four main duties: fighting against Satan, defending God's people (first Israel, now the Church), rescuing souls from the power of the Enemy, especially at the hour of death, and bringing all souls to judgment as the angel of death. Because he is the protector and defender of God's people as well as the angel who brings souls to judgment, St. Michael the Archangel is recognized today as the patron of soldiers, security guards, police officers and paramedics.
Comes with a 24" chain.
Material: 24kt Gold Plate Over Sterling Silver
Size: 1-1/4" H, 24" L Chain
---
Share this Product
Still have NOT received St Michael medal
I have NOT received it therefore I cannot give any reviews other than disappointed that it hasn't arrived yet!
Athena
---
More from this collection