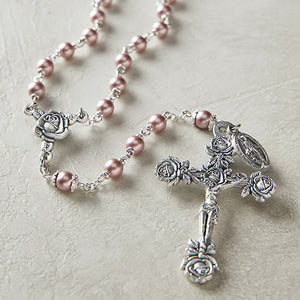 Catholicshoppingplace.com
Swarovski Pink Rosary
Regular price
$52.99
Sale price
$60.00
Exquisitely beautiful, the Swarovski Pearl Rosary features Rose colored (light pink) 6MM Crystal Beads, Loc Link construction, an Italian-made rose crucifix, a Miraculous Dangle, and rose medal centerpeice.
-- Swarovski Pearl, Zinc Alloy with Silver Oxidized Finish -- 6MM Beads, Crucifix 0"H, Center 0"L, Dangle 5/8"L
---
Share this Product
SWAROVSKI PINK ROSARY
I love the soft pink pearl beads in this rosary. However, the roses crucifix and centerpiece were a little too bulky for my use. I had them removed at a jewelry shop and replaced them with a silver centerpiece featuring the holy family, as well as a much smaller crucifix. The result is stunning, and I have received many compliments on the rosary.
---
More from this collection