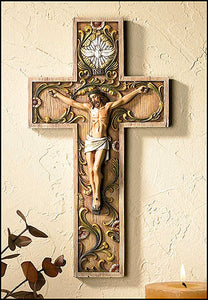 Catholicshoppingplace.com
Holy Spirit Crucifix
Regular price
$50.00
$0.00
The Gospels all testify that Jesus of Nazareth was crucified on Golgotha, a Hebrew word meaning "the Place of the Skull"—or Calvaria, in Latin. It was on this hill of Calvary, just outside Jerusalem, that Jesus took upon Himself the sins of the world, as He was scourged, crowed with thorns, crucified, and pierced through the heart for our salvation. The sinless Son of God gave up His life out of love for us, that each of us might be saved from death and find forgiveness and a new life in Him. Inspired by this ultimate act of love, we have created the Calvary Crucifix Collection. Each was exclusively designed and exquisitely sculpted for Avalon Gallery. Every crucifix comes packed in an exquisite gift box and is ready for gift giving.
-- Resin -- 10" H -- Avalon Gallery
---
Share this Product
Holy Spirit crucifix
It is beautiful and substantial.
---
More from this collection